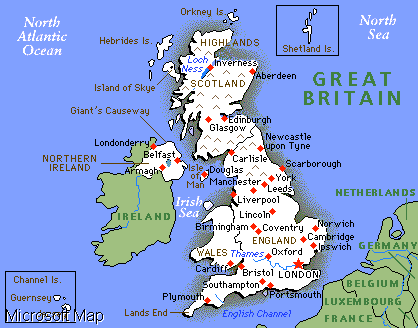 Great Britain

or United Kingdom, officially United Kingdom of Great Britain and Northern Ireland, a parliamentary monarchy in northwestern Europe. The kingdom includes the island of Great Britain, comprising England, Scotland, and Wales; and Northern Ireland, an integral component of the kingdom, occupying part of the island of Ireland. The Isle of Man and the Channel Islands in the English Channel are not part of the United Kingdom; they are direct dependencies of the British crown and have substantial internal self-governing powers. The United Kingdom lies entirely within the British Isles. The total area of the kingdom is 244,111 sq km (94,252 sq mi).

From 1801, when Great Britain and Ireland were united, to 1922, when the Irish Free State was established, the kingdom was officially designated the United Kingdom of Great Britain and Ireland. Great Britain, along with other independent countries and their dependencies and several associated states, is part of the

Commonwealth of Nations. The capital and largest city of Great Britain is London.